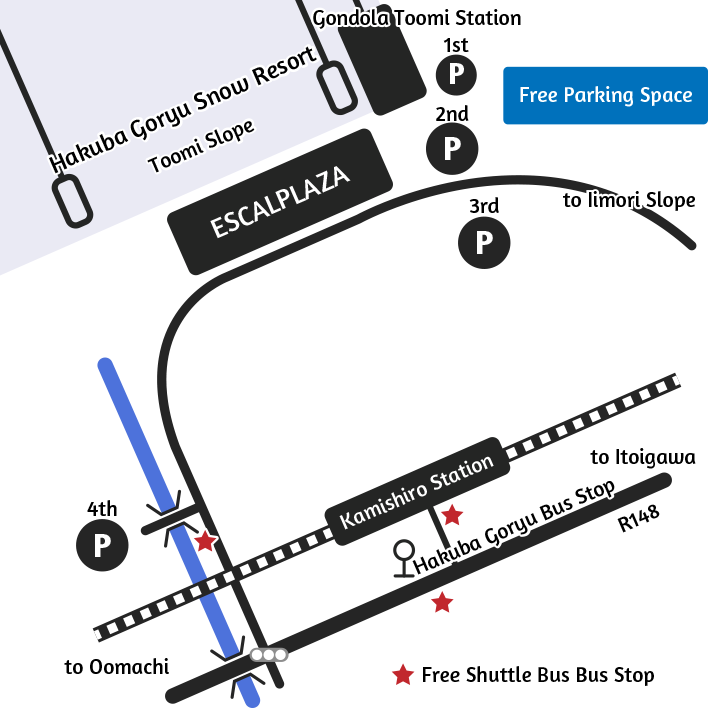 Hakuba Goryu Snow Resort ESCALPLAZA
399-9211
22184-10, Kamishiro, Hakuba Village, Kitaazumi-gun, Nagano
.0261-75-2101
.0261-75-2832
From Tokyo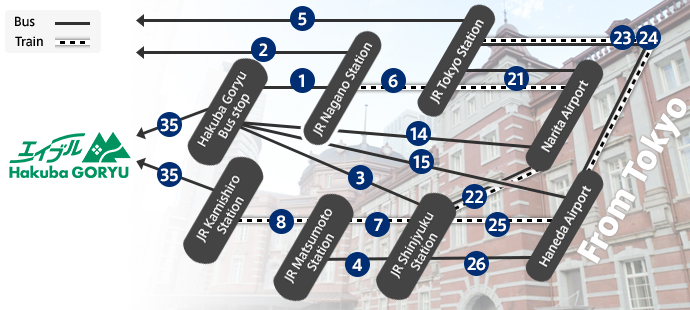 Narita Airport
Haneda Airport
(1).Local Bus (Nagano - Hakuba)
From Nagano Station to Hakuba Goryu Bus stop
(2).Nagano Snow Shuttle (Nagano - Hakuba)
From Nagano Station to Goryu ESCALPLAZA
(3).Highway Bus (Shinjuku - Hakuba) *Night Bus, stop at Escal Plaza
From Shinjuku Bus Terminal(Busta-Shinjyuku) to ABLE Hakuba Goryu Escal Plaza
Operation Period Dec.11 , 2021 - Mar.31 , 2022
(4).Highway Bus (Shinjuku - Matsumoto)
From Shinjuku Bus Terminal(Busta-Shinjyuku) to Matsumoto Bus Terminal
(5).Express Bus JAMJAM LINER (Yokohama/Tokyo to Hakuba)
From Tokyo Station to ABLE Hakuba Goryu Escal Plaza
Operation Period Dec.24, 2021 - Apr.2, 2022 (From Hakuba Dec.25-Apr,3)
(6).JR Hokuriku Shinkansen
From Tokyo Station to Nagano Station
(7).JR Chuo Line
From Shinjuku Station to Matsumoto Station
(8).JR Oito Line
From Matsumoto Station to Kamishiro Station
(14).Highway Bus (Narita Airport - Hakuba)
From Narita Airport to Hakuba Goryu Bus Stop
*Not available in 20-21 season
(15).Highway Bus (Haneda Airport - Hakuba)
From Haneda Airport to Hakuba Goryu Bus Stop
*Not available in 20-21 season
(21).Train or Bus
From Narita Airport to Tokyo Station
(22).Train or Bus
From Narita Airport to Shinjuku Station
(23).Train
From Haneda Airport to Tokyo Station
(24).Bus
From Haneda Airport to Tokyo Station
(25).Train
From Haneda Airport to Shinjuku Station
(26).Bus
From Haneda Airport to Shinjuku Station
(35).Hakuba Goryu Free Shuttle Bus
From JR Kamishiro Starion to Goryu ESCALPLAZA
Operation Period Dec.17 , 2022 - Apr.2 , 2023
From Nagoya

Chubu Centrair International Airport
(8).JR Oito Line
From Matsumoto Station to Kamishiro Station
(9).JR Chuo Line
From Nagoya Station to Matsumoto Station
(10).Highway Bus (Nagoya - Matsumoto)
From Meitetsu Bus Center to Matsumoto Bus Terminal
(16).Highway Bus JAMJAM Liner (Cyubu - Shinsyu)
Nagoya Station to Goryu ESCALPLAZA
Operation Period Dec.24 , 2021 - Mar.26 , 2022 (From Hakuba Dec.25-Mar.27)
(27).Train
Centrair Japan Intl Airport Station Nagoya Station
(28).Bus
Chubu Centrair International Airport Nagoya Station
(35).Hakuba Goryu Free Shuttle Bus
From JR Kamishiro Starion to Goryu ESCALPLAZA
Operation Period Dec.17 , 2022 - Apr.2 , 2023
From Kansai

Kansai International Airport
(8).JR Oito Line
From Matsumoto Station to Kamishiro Station
(9).JR Chuo Line
From Nagoya Station to Matsumoto Station
(10).Highway Bus (Nagoya - Matsumoto)
From Meitetsu Bus Center to Matsumoto Bus Terminal
(11).Highway Bus (Osaka/Kyoto - Matsumoto)
From Shin-Osaka to Matsumoto Bus Terminal
(12).Highway Bus (Osaka/Kyoto - Hakuba)
From Shin-osaka to Goryu ESCALPLAZA
Operation Period Dec.17 , 2021 - Mar.20 , 2022 (From Hakuba Dec.18-Mar,21)
(16).Highway Bus JAMJAM Liner (Cyubu - Shinsyu)
Nagoya Station to Goryu ESCALPLAZA
Operation Period Dec.24 , 2021 - Mar.26 , 2022 (From Hakuba Dec.25-Mar.27)
(17).ORION Tour Express Bus (Kansai - Hakuba)
From Nanba to Goryu ESCALPLAZA
Operation Period Jan.4, 2022 - Mar.5, 2022 (From Hakuba Jan.5-Mar,6)
(18).Train or Bus
(29).Train
Kansai International Airport Namba Station
(30).Bus
Kansai International Airport Nankai Namba Station
(31).Train
Kansai International Airport Shin Osaka Station
(32).Bus
Kansai International Airport Shin Osaka Station
(35).Hakuba Goryu Free Shuttle Bus
From JR Kamishiro Starion to Goryu ESCALPLAZA
Operation Period Dec.17 , 2022 - Apr.2 , 2023
(36).Highway Bus JAMJAM Liner (Kansai - Shinsyu)
Kobe/Osaka/Kyoto to Goryu ESCALPLAZA
Operation Period Dec.24, 2021 - Apr.2, 2022 (From Hakuba Dec.25-Apr,3)
From Toyama

Toyama Kitokito Airport
(8).JR Oito Line
From Itoigawa Station to Kamishiro Station
(19).Train
From Toyama Station to Itoigawa Station
(33).Bus
From Toyama Kitokito Airport to Toyama Station
(35).Hakuba Goryu Free Shuttle Bus
From JR Kamishiro Starion to Goryu ESCALPLAZA
Operation Period Dec.17 , 2022 - Apr.2 , 2023
Arriving with car
Estimated time from IC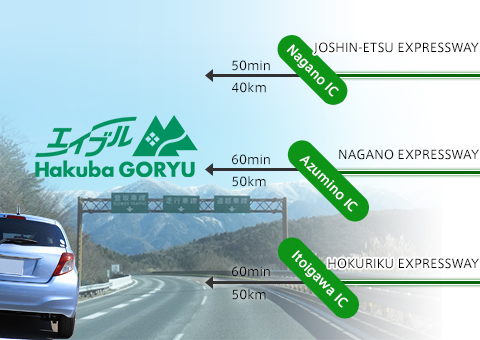 From Tokyo approximately 4 hours
From Nagoya Approximately 3.5 hours
From Oosaka Approximately 5.5 hours
Shuttle Bus
Hakuba Goryu Free Shuttle Bus
These free shuttle buses are for skiers and snowboarders who are visiting Hakuba Goryu Ski Resort. Operation Period Dec.17 , 2022 – Apr.2 , 2023
Hakuba Village Free Shuttle Bus

Free shuttle bus routes JR Kamishiro Station, Hakuba Village hotel and lodge, and Escal Plaza.

Operation Period Dec.17 , 2022 – Apr.2 , 2023
Oomachi-Onsenkyo Free Shuttle Bus

Free shuttle bus routes directly to the main hotels in Oomachi-Onsenkyo.

Operation Period Dec.17 , 2022 – Apr.2 , 2023
Goryu Ski Resort Night Ski Free Shuttle Bus

The free shuttle for Escal Plaza and night skiing at Toomi slope. (Operating everyday during the whole season)

Operation Period Dec.17,2022 – Mar.21,2023

*The opening of night skiing is subject to the snow condition, so as the operation of the night shuttle bus.
HAKUBAVALLEY Shuttle bus

HAKUBAVALLEY shuttle bus connects Hakuba, Otari, Oomachi and 10 ski resorts.
Finished for the season.

Operation Period Dec.24 , 2022 – Mar.12 , 2023

Adult 510yen per trip. Child 6-11 years old 260yen.5years old and under rides free.
From Matsumoto Airport
From Sapporo Shinchitose Airport

Shinchitose Airport to Matsumoto Airport, Bus or taxi to Matsumoto station, Ooito line to Kamishiro Station, Free shuttle bus or Taxi to Hakuba Goryu

From Fukuoka Airport

Fukuoka Airport to Matsumoto Airport, Bus or taxi to Mastumoto station, Ooito Line to Kamshiro staion, Free shuttle bus or taxi to Hakuba Goryu